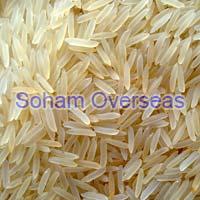 Rice is indeed one of the staple dishes of a number of Indian states. Many people love to cook rice every day and their food is never complete without rice on their plate. While many people favor non-basmati rice for their intake, the majority of people turn to basmati rice only. Basmati rice stands out from all other rice qualities owing to its strong aroma, slender length, and taste as well. And when it comes to basmati rice, not many are aware that there are different types in basmati as well. One can find a number of basmati rice types that are distinguished by their type. With this topic in mind, here are the different types of basmati rice that one can find in the market.
White Sella Basmati Rice: There are a number of white sella basmati rice manufacturers in India and one can find the best quality white sella basmati rice from them. This basmati rice is produced organically in different parts of India. It has a hard texture and becomes double its length when cooked. The one biggest quality of white sella rice is that it does not stick together even after cooking.
Super Kernel Basmati Rice: One of the most exotic basmati rice varieties in India is super kernel basmati rice. This is the most amazing type of basmati rice that is found in the market. It is famous for its features like nutritional value, rich aroma, and great taste. Majority of people buy the super kernel basmati rice because of its strong fragrance.
Pusa Basmati Rice: This long grain basmati rice is a hybrid type of rice that is majorly found in India. North Indian states like Punjab and Haryana are leading in the production of this Pusa basmati rice. This rice is comparatively a thinner and slender grain and is great when cooked.
Basmati Tukda Rice: As the name suggests, this is not the long grain rice that you usually prefer cooking, It is a tukda rice, which means it is broken from the middle. This type of rice is great for cooking dishes that do not require any type of presentation like kheer or khichadi.
Steam Basmati Rice: Pure white rice grains are what make steam basmati rice a very popular basmati rice type. These rice grains are great for steam cooking and an increase in their size on being exposed to steam. They are majorly cultivated in organic cultivation and are rich in nutrition.
1121 Sella Basmati Rice: 1221 sella basmati rice is one of the most amazing and longest basmati rice available in the market. This type of rice was not introduced in India a few years back. Now, it has become a favorite of the people. Its average length is pretty long between 8 mm to 9 mm. These rice grains are yellow in color and have a strong and sweet aroma.