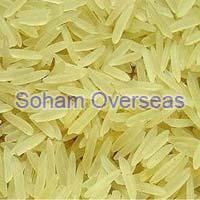 Golden Sella is a kind of parboiled basmati rice. The name 'Golden' depicts its colour after getting parboiled as it turns then pale yellow. It is a cultivar of basmati rice which either partially boiled or parboiled and still remains in its crust and then crushed.
Golden Sella is different from other types of parboiled long grain rice with its telltale smell. These basmati rice grains remain in its husk and this is why it is called as paddy. To prepare this rice, it is important for the manufacturers to soak it well into water and then offer the paddy steam under pressure. Make it dry with the milling process.
The milling process is performed for removal of husk, germ, and bran. After this process is done, slim long translucent yellow or golden yellow grains are formed with firmer texture.
Not suitable for making Risotto: is it a good thing?
Risotto is a popular North Italian rice dish which gets cooked with broth that can be derived from vegetables, fish or meat, and this dish becomes ready until a creamy consistency is reached.
Any parboiled rice cannot be a suitable choice for making risotto because the grains remain separated, firm, and fluffy after the cooking is done. Hence, Golden Sella Basmati rice makes no choice for making this dish as the stickiness cannot be achieved with this rice grains. And, this makes it perfect choice for making Indian rice dishes such as Biriyani and Pulao. Added to that, it has a magical ability to absorb the multiple flavours of spices, herbs, and condiments, and so, apart from making fragranced Biriyani or Pulao, coconut rice, jollof rice, or any other types of one-pot rice items are perfectly prepared with it.
Nutrient count for Golden Sella Basmati Rice:
Its parboiling manufacturing method makes Golden Sella basmati rice rich in nutrients especially Vitamin B1 or thiamine, and this vitamin is present everywhere from the bran to the grain. This parboiled technique makes this special kind of basmati rice more nutritious than plain white rice.
Per 45 grams servings of Golden Sella basmati rice, there are 160 calories energy, 36 grams carbohydrates, 3 grams protein, and 4% iron, present in it.
Health benefits of Golden Sella basmati rice:
In the South and Middle East part of Asia and in many other countries, Golden Sella basmati rice is a popular food choice. With its every serving, it offers many health benefits too, such as
• Can help in losing some weight. As you feel full after consuming this rice dish, you feel no urge of eating anything after this.
• Rich in fiber content which enables easy and healthy bowel movement. It also helps in reducing calorie intake and fat absorption in the body.
Golden Sella basmati rice exporters:
Every regular and popular Golden Sella basmati rice exporter in India remains actively engaged in the cultivation of supreme quality rice grains to serve its huge demand across the globe. They offer moisture-proof and industry-grade packaging during the transportation of goods.
We are actively engaged in growing or cultivating premium quality rice grains, which are high in demand across the world. As one of the largest exporters of Golden Sella Rice, we offer desired quantities and moisture-proof packaging while exporting our products. The rice is parboiled to ensure firmness and less breakage, hence, it is ideal for mass cooking.
The rice produced is grown organically, under favourable agro-climatic condition with effective use of natural fertilizers. The rice exported in India or overseas, is processed in an organic manner, packed under 100% hygienic conditions while preserving the nutritional value. We export our premium Golden Sella Rice at much reasonable prices and because of several notable features we are a trustworthy brand.
As we have become one of the leading exporters of Golden Sella Rice, we customize our packaging according to the client s requirements. In addition, we offer excellent taste and rich aroma at the most affordable prices. We also export quality Long Grain Parboiled Rice in india.